FREE Ebook
.
101 Traffic Tips
For Increasing Site Visitors & Sales
.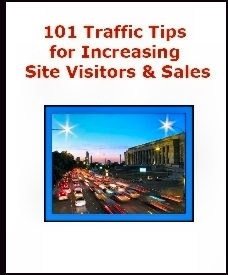 Rev. 3 -- 6-24-09
(Once opened, you can use the SAVE function
to download a copy onto your own computer.)
Traffic = Sales and Sign-ups!

- Article Marketing
- Keyword Research
- Pay-Per-Click Advertising (PPC)
- Using Web 2.0 Websites
- Forum Marketing
- Directory Submission
- Video Traffic
- Press Release Traffic
- Buying Banner Ads
- Getting Links
- Social Bookmarking
- Word-of-Mouth Marketing
- Blogging for Visitors
- "Outside the Box" Strategies

NOTE: To read the Report, you must use Adobe® Acrobat Reader (it comes pre-installed on most computers). If your computer does not already have this software, click the Adobe Reader logo (to the left) to download it onto your computer for free, THEN use the "Click Here" link for the Free Ebook, above.
Once the Ebook is opened, you can use the Save-As feature in the File menu (within Adobe Acrobat Reader) to permanently save a copy of the Ebook onto your
own computer.
.
Please SHARE this FREE Ebook!
Tweet About It on Twitter, Post the Link on Facebook,
MySpace, etc., Bookmark It On Your Favorite Social
Networking Sites, and Forward to All Those You Know
Who Might Greatly Benefit From This Advice On
Getting MORE TRAFFIC to Their Web Sites and Blogs!
================================================================================
Additional Marketing & Advertising Resources:

.

I've been able to get you FREE Lifetime Membership in
Instant Squeeze Page Generator -- the one web site where
you can build killer squeeze pages (a.k.a. lead capture pages,
landing pages, splash pages, etc.) with a click and play wizard!
.
Note that you do need to have an active account with an autoresponder
service in order to use this FREE squeeze page system and build your list.