Christmas is the perfect time of year to start getting together with the family and coming up with some creative craft ideas.
Not all gifts need to be store bought; in fact, some of the most cherished gifts many of us receive are the ones made by hand from our loved ones.
You can come up with new ideas, or use some of the great Christmas craft ideas listed here.
It's sure to be a hit and it is also a great way to make some special time together as a family.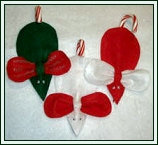 Ornaments are a perfect Christmas craft. They are versatile, cute, and creative, and you can make several in one batch to give as gift tags, stocking stuffers, or just as a single gift. A Christmas candy cane mouse ornament makes a wonderful addition to anyone's tree. It's easy to make with just gray, white, black, or Christmas red felt, googly eyes, yarn, and some hot glue. Cut the felt into a mouse shape and glue on the eyes and ears. Then, insert the candy cane into the mouse for the tail and add a hanging loop made from the yarn. These are cute, creative, and adorable ornaments.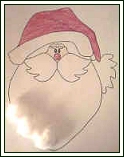 Advent calendars are a fun way for children and adults alike
to count down to Christmas day. You can make a Santa Claus
advent calendar, using his beard as the days to count down.
Simply make Santa's face out of construction paper or felt.
Next, VERY LIGHTLY draw a total of 24 circles on his beard,
each the size of a cotton ball, and so that the entire beard
will eventually be filled with the cotton balls. Start gluing one
cotton ball on each day at bedtime, starting on December 1st.
Once all of the pieces of Santa's beard are glued on, when
you wake up, it will be Christmas Day!
.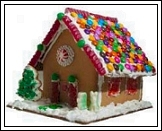 Everyone loves gingerbread houses, but they can be rather difficult to make. For an easy alternative, try making miniature gingerbread houses made out of graham crackers. They look authentic! Decorate them with icing and a variey of candies such as gumdrops, M&M's or Skittles or Red Hots, etc., licorice, small decorated cookes. Have fun and be creative with your ideas, and watch the graham crackers transform into beautiful, totally unique, tiny little houses.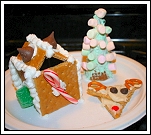 If you want to set up a small village of houses or create a scene with a house and a yard, you can also use upside down sugar cones (normally used for ice cream)... decorate them to look like Christmas trees! Gingerbread houses are always a fun craft to make for Christmas. Plus, you can make extras, so some can be given away as gifts!
You might also consider purchasing one or more Gingerbread House Kits to make things just a bit easier!

Another great Christmas craft idea is the reindeer candy jar. The kids can fill it with their favorite candies and give them as gifts at school. Simply take a clean, empty jar and wrap it with brown felt or construction paper. Decorate the front of one side with the reindeer's eyes, nose and mouth using pom-poms and glue, and wiggly eyes. Then, use small twigs and glue them onto the jar to serve as the antlers. Allow the glue to try and then fill them with nuts or candy, and you have a super cute and easy Christmas craft. Reindeer Candy Jar Instructions

Use beads and safety pins to make a variety of different decorations or lapel pins. Popcorn garland and hand made stockings are just a couple of other ideas. You can make a number of other great Christmas crafts with old Christmas cards, tinsel, greenery, or other items from last year if you wish. Take an old Christmas card and cut out the front, and glue it to an empty small jar. Then, insert a candle, and you have a homemade candleholder for the season.
Brainstorm and see what other great ideas for Christmas crafts you can come up with....