This season host your own cookie trading party. Below are some starter recipes -- even those who feel as though they are "backing challenged" can manage to make these fun Christmas cookies!
.
Shortbread Cookies
These melt in your mouth classics can be made for used for cut-outs or rolled in to balls.
Roll the balls in your favorite topping, like crushed almonds or coconut.
Christmas balls are the easiest fun Christmas cookies even you can make.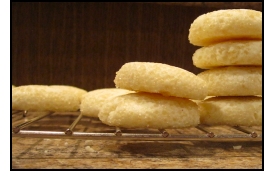 INGREDIENTS:
1/2 pound unsalted butter (yum!)

1/2 cup brown sugar

2 cups flour

1/2 teaspoon vanilla

Pinch of salt
PREPARATION:
Mix well, roll out in to about 1/4-inch thick, and cut into shapes. Or, roll into small balls then roll in finely chopped nuts or coconut; place on lightly greased cookie sheet and flatten with the bottom of a glass. Bake at 300° F. for approximately 20 to 25 minutes.
.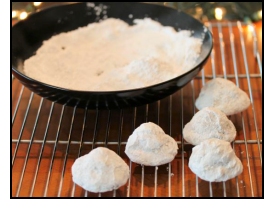 Secret Kiss Cookie
Fun Christmas cookies with a surprise -- a cookie with a chocolate kiss wrapped inside.
1 bag chocolate kiss candies, unwrapped (7 ounces) powdered sugar
Cream together your butter, sugar, and vanilla. Blend in Flour. Wrap one tablespoon of dough around each chocolate candy kiss. Bake at 350° for about 15 minutes, or until dough is set but not browned. Roll each cookie in powdered sugar while still warm.This recipe makes about 2 to 3 dozen cookies.
.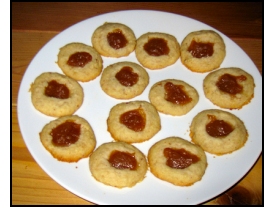 Colorful and fun Christmas cookies -- let your kids do the thumb work!
INGREDIENTS
1 cup butter, softened

3/4 cup granulated sugar

2 teaspoons vanilla

1 teaspoon almond extract

2-1/2 cups flour (more if dough seems too thin)

Optional: finely chopped pecans, almonds, or other nuts

Jam
PREPARATION:
Beat butter with an electric mixer at medium speed until creamy. Add sugar and the next 3 ingredients, blending well. Chill dough 2 1/2 hours. Roll dough into small balls, then roll in the chopped nuts; place on lightly greased cookie sheets.

Make an indention in the middle of each cookie and fill with jam. Bake at 300° for about 25 to 35 minutes, or until firm and lightly browned on the bottom. Makes about 6 dozen.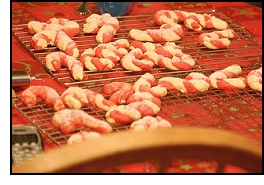 These pretty cookies make a great classroom treat.
INGREDIENTS
1/2 cup butter

1/2 cup shortening

1 cup sifted confectioners' sugar

1 egg

1-1/2 teaspoons almond flavoring

1 teaspoon vanilla extract

2 1/2 cups sifted all-purpose flour

1 teaspoon salt

1/2 teaspoon red food coloring

Optional 1/2 cup crushed peppermint stick candy, 1/2 cup sugar
PREPARATION:
Preheat oven to 350°. Cream the shortening and butter; mix in sugar, egg, almond and vanilla. In a separate bowl, mix flour and salt and add to shortening mixture. Divide dough in half.

Blend red food coloring into one half. Roll 1 teaspoon of the red dough and 1 teaspoon of the white dough on lightly floured board into 4 inch strips. Place strips side by side and press lightly together and twist. Do not pinch. Curve top of rope down in to the shape of a candy cane.

Make one complete cookie at a time. If the dough of one color is shaped first, the rolls will become too dry to twist.

Bake 9 minutes or until lightly browned. Remove while still warm. Sprinkle with 1/2 cup crushed peppermint stick candy and 1/2 cup sugar (optional). This recipe will make two dozen.
.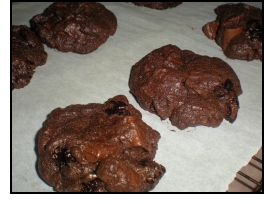 Dried cherries and chocolate; fancy and easy!
INGREDIENTS:
1-1/2 cups chocolate chips

1/2 cup butter

1/2 cup shortening

1 cup sugar

2 eggs

2 teaspoons vanilla

2 cups flour

1/2 cup cocoa powder

1/2 teaspoon salt

1 cup dried cherries
PREPARATION:
In small bowl over saucepan of hot (not boiling water) melt 1/2 cup of the chocolate chips; let cool.

Beat butter, shortening and sugar until fluffy; beat in eggs one at a time. Beat in vanilla, then melted chocolate.

In a separate bowl stir flour, cocoa, baking powder and salt; stir into butter mixture. Stir in cherries and remaining chocolate chips.

Drop by tablespoonfuls about 2 inches apart onto greased baking sheets. Bake at 375 for about 12 minutes or until edges are firm and centers still soft.
.