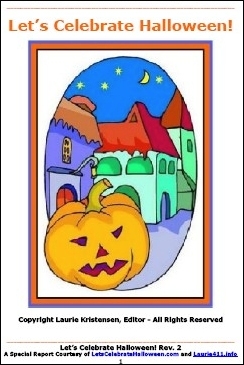 NEW MATERIAL ADDED on October 20th, 2013 (Rev. 4)
So, even if you picked it up before, get the NEW version!

.
Please Feel Free to Forward or Download and
.
Give Away This FREE Halloween Ebook to
.
ANYONE Who Would Also Enjoy It -- And Also
.
SHARE It Via Your Social Networks
.
Use This Button...

Halloween is coming up fast, so I put this guide together
just for you and your kids.


Kids of ALL ages love to celebrate Halloween! What other

time of the year does everyone get to think up great
costumes and pretend to be someone completely different...
anything from a fairy princess or a super hero, to an
evil witch or ghastly monster, to a favorite movie character
or a clever portrayal of a funny cliche?


And although it's become more and more of a holiday that
adults relish celebrating, too, Halloween was ESPECIALLY
made for kids!


You and your children will have a ton of fun together with
all the fun Halloween recipes, party games, and
simple crafts in this ebook!

Thanks, and Have a GREAT Halloween!

Laurie Kristensen, Editor