Fun Couples Halloween Costumes
_________________________________________________________________________________________________________________________________________________
Fun Couples Halloween costumes are even more popular than they were last year. Several of the top themes are classic ideas that return year after year, but others are brand new.
See these fun couple outfits and see if any of them are the perfect costume idea for you and your partner.
1) Twilight Couples Costume
I put this one first because I am a Twilight Saga fan...big time. I loved reading all of the books and seeing the movies that have been released so far.
I am crazy about Bella most of all. Okay, I am crazy about all the characters but I have several favorites among them. Edward is another one of my favorite characters.
Did you know there is a lot of Cullen-style jewelry out there, including Alice's famous choker necklace. There is also an Edward Cullen wig just in case anyone needs help with that wild hair style he wears.
There are not any standard costumes for the Cullen Clan members, so it's a make-your-own costume idea. You can buy a few accessories like the Twilight-inspired jewelry, the wig, the contacts, etc.
.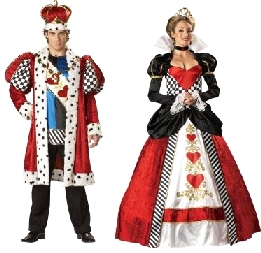 .

2) The King and Queen of Hearts Costume
This costume idea from a deck of cards is quite popular this year.
It's an easy outfit to put on, it is inexpensive and it is unique.
You are not going to run into many other playing cards at
your Halloween party.
If you are card players, dressing up as the King and Queen of Hearts might be a good idea for you.

.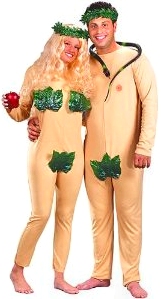 .
3) Adam and Eve - The Original Couple

Adam and Eve have been a talked-about couple since the beginning of time.

It's only right that they are a popular couples costume for Halloween, don't you agree?

These two jumpsuits are a beige color and they have leaves covering all the right spots, so it's a fun costume for adults to dress up in.

Maybe you could carry an apple as a prop or get yourself a rubber snake to accessorize this ancient Adam and Eve couples costume.
.

.
.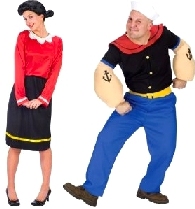 .|
4) Popeye and Olive Oyl
Popeye and Olive Oyl are the ideal couple costume for this Halloween.
He's been eating his spinach and she is as cute as ever.
These love birds are a fun costume idea that will give everyone a laugh.


.
.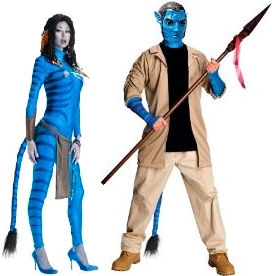 .
.
5) Avatar Couples Costume Ideas
Avatar Couples Costumes are a hit thanks to the blockbuster film of the same name.
Neytiri and Jake Sully are the blue characters from the James Cameron film, Avatar.
These two characters come in kids and adult sizes and there are several blue makeup kits to help you achieve the look.



.
.
.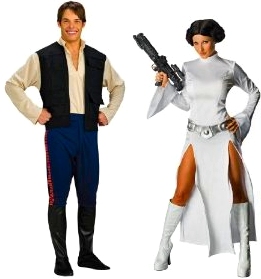 6) Star Wars Couples Costumes
Star Wars couples are always a popular Halloween costume choice.
Princess Leia, Luke, Han and the evil Darth Vader costumes are perfect together.
Or perhaps you like Padme Amidala and Anaken Skywalker to
dress up as.
These characters have been popular for decades and will be for years to come.
They are classic science fiction Star Wars Couples Costumes that everyone recognizes.
I can't imagine a Halloween costume party without them.


.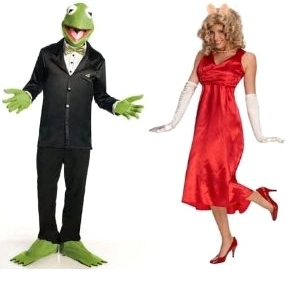 7) Classic Halloween Couples Costumes

Halloween Classic Couples Costumes like Cinderella and Prince Charming are another ever popular outfit for the two of you to wear. There are plenty of ideas for this category too.

Ideas like Robin Hood and Maid Marion for the Renaissance style...

Dracula and the Vampiress for the gothic style outfit...

As well as Cleopatra and her Roman soldier, Marc Anthony.

For a 1920s style you can choose a Flapper and a Gangster or Bonnie and Clyde.

Mr. and Mrs. Incredible are a fun superhero couple costume that is easy to find and fun to wear.
.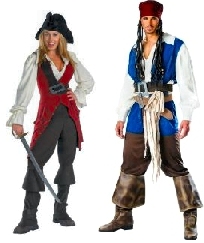 .
.
8) Pirates of the Caribbean Couples Costumes
Jack Sparrow and Elizabeth Swann are popular characters from the Pirates of the Caribbean movies.
They would make a fine couples Halloween costume.
It's always fun to dress up as a pirate and it's even more fun to dress up as two of them!
.
.
.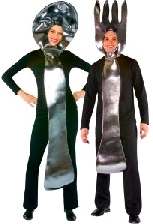 9) Funny Couples Costume Ideas

The fork and spoon is becoming a classic prank couples costume idea.

It keeps coming back year after year and why not, it is funny. So why not bring a little humor to your costume party this year with these silly and cute costumes. Here are a few more ideas:

Bacon and Eggs

Peanut Butter and Jelly

Lock and Key

A Zombie Couple like a Bride and Groom or a Prom King and Queen

.

.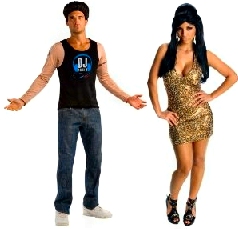 10) Reality TV Couples Costumes
The Jersey Shore couples costumes are still a hit this Halloween. Mike "The Situation" and Nicole, "Snooki" are a fun couples costume idea for Halloween.
Practice that New York accent so you sound like these characters too. Make your friends laugh with these comic costumes from the popular reality TV show.
I have one question, if it's reality TV why aren't the Jersey Shore characters from Jersey? Go figure, they can do anything they want
on TV.

It's fun to dress up as your favorite couple for Halloween. Have a blast with make up and costumes while you also surprise everyone with your fabulous costumes, your sense of humor or your sense of style.
It's a great feeling when you get to the party and you realize you have a unique costume that no one else is wearing. Have fun with these fun Halloween couples costume ideas.
.
Extra Halloween Fun!

This googly-eyed Halloween pumpkin makes a rather sweet-looking
companion for a stone planter filled with autumn flowers.