How To Choose The Best Iron Man Halloween Costume
_________________________________________________________________________________________________________________________________________________
You can bet that Iron Man 2 Halloween costumes are still going to be huge this Halloween. Halloween is fast approaching and if you plan on going to a Halloween party as Iron Man 2, or if your child loves Iron Man and wants to go trick or treating as Iron Man 2, it is important to do some planning now so you aren't left out. Here's some ideas for you to toy with.

First, is it for an adult or a child? Let's face it. An adult who is planning to wear the costume to a party has a different set of concerns than does and parent who is worrying about the safety of his or her child while they are out trick or treating. The thought here is that the adult is concerned about having the most authentic and cool costume available while the concern for the child is one of safety.
With kids costumes, you need to make sure they have plenty of room to move as well as making sure they have good visibility for wandering around the neighborhood at night. Their mask needs to make it so that he or she can see clearly... their vision should not be blocked. Also, if there isn't any on the costume, it is smart to put some reflective tape on both sides to make sure they are easily seen by cars.
Most children will be wearing the costume during a cool autumn night. You want the costume to be big enough so they can wear their warm clothing underneath. Nobody wants to hide their costume under a coat or sweater, so that stuff should be worn underneath to keep them warm, and possibly dry.

The beauty of an Iron Man 2 costume is that it lends itself to be used as part of an ensemble. A group Iron Man theme is easy to accomplish. You might have someone dressed as Tony Stark without the costume, someone else as War Machine and another as Black Widow. There are lots of ways to do a "group" costume without having more than one of the same characters.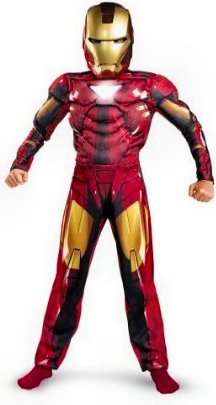 If you are planning to throw a Halloween party this year, then how about a Super Hero theme for the party? This would give people more opportunities than by sticking to Iron Man specifically, but it would no doubt be one of the more popular costumes since the movie was released this year.

Will you buy or rent the costume. You've got a choice to make. Renting a costume sometimes means the quality of the costume will be better than the one you could buy for a comparable price. I am a bigger fan of buying over renting. Why? I don't like the idea that I am wearing used clothing that someone else has been partying in.

It really does pay off to shop around before making a decision. You can find shops in your area that are dedicated to costumes. Watch out though, they are often packed during the Halloween time of year. There are incredible choices in costumes online. Better selections than you can find locally and you can get free overnight shipping and free returns.

Watch out for bargain or cheap costumes. Remember, you get what you pay for. Some of the better online retailers will let you check other customer reviews so you can see what others say about the quality. The quality is often not very good on cheap costumes, and they may not hold up to normal wear and tear very well. Kids often will want to ear their costumes around the house or neighborhood and not just on Halloween.
Extra Halloween Fun!

Looks like this cow could use a Super Hero to protect it
from naughty boys playing pranks on Halloween!