"Viral Marketing" Resource:
.
Own and GIVE AWAY a Customized Copy of a
.
Generic MANGOSTEEN Information EBOOK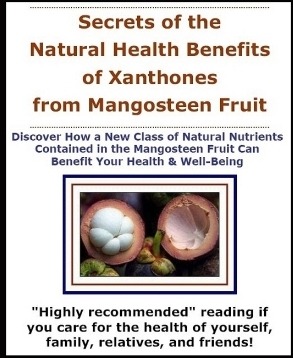 This ebook can be read with the FREE Adobe® Acrobat Reader. If you computer does not have this software, please click here to download.

Purchase a customized ebook that provides comprehensive, generic information about the research about the health benefits of Mangosteen and Xanthones -- INCLUDING instructions for exploring all the research at PubMed.gov!
The ebook will contain link(s) to the site(s) of your choice, so that when you give away this ebook (via email, online ads, article marketing, on social networks, etc.), it will lead to more traffic to YOUR website(s)!
Then, you can GIVE AWAY an INFINITE number of copies of your ebook to prospects... purchase ONCE, and give away UNLIMITED copies forever!
The recipients are also urged to GIVE AWAY your ebook to OTHERS who may then ALSO visit your site(s)....
This is called "VIRAL MARKETING"
For more info on viral marketing,

Your ebook can contain UP TO a total of 5 links to other websites....
ONE link will appear in TWO PLACES in your ebook... on Page 2 (after the cover page) AND on Page 25.
IF you opt to include additional links (up to 4 more), they will go on Page 26. (If not, I will delete the 26th page.)
For example... if you promote multiple complementary products or have more than one brand-specific site for your business, you can link to them on Page 26.
Each link may include 1-3 paragraphs of text, written by you and emailed to me along with the URLs to the web sites so I can create the links.
I will format the text and links to make it "look good!
How To Use Your Ebook:
Your ebook comes as a PDF document, which is compatible on all computer platforms (PC, Mac, etc.)... the Adobe Acrobat reader is usually included on all computers or can easily be downloaded from the
Adobe web site
.
Once you purchase your ebook, you can re-use it an INFINITE number of times at NO additional cost -- unlike with pre-printed brochures.
FOR INSTANCE, give it away....
- to prospects via emails that specifically offer it OR by offering it in the signature lines of all your emails no matter the topic
- in online ads that you post
- with article marketing by offering it in your author resource box at the bottom of all your articles
- on social networks like Facebook, MySpace, etc.
- And So On.... Your imagination is your ONLY limitation!
This is a nice alternative if you prefer not to invest in a complete web site
such as those available at
www.PersonalMangosteenSite.com
...
your ebook can include the link to ANY site(s) of YOUR choice, to help drive traffic to it and increase sales, sign-ups, etc.
How To Purchase Your Ebook:
.
Complete BOTH Step 1 and Step 2, BELOW
STEP 1.
Below, click the "BUY NOW" button, which will open a new page for PayPal.
$14.97 US
Customized Mangosteen Ebook
with 1 Link to be placed on both Pages 2 and 25
+ UP TO 4 additional Links with Ads
(which are to be written and provided to me by you)
| | |
| --- | --- |
| | <== Click to Pay for Your Ebook, then complete instructions in Step 2, below. |
NOTE: Even if you do not currently have a PayPal account, you can still easily purchase your ebook with your credit card. The entire transaction is totally safe because the PayPal web site is encrypted.

- If you already have a PayPal account (on the next page after clicking the
Pay Now icon above, on the RIGHT SIDE) you can simply "LOG IN" with your
PayPal email and password to complete your payment.

- If you have never used PayPal before, simply register by filling in all your
information on the LEFT SIDE and following the instructions to complete
your order.
STEP 2.
Do EITHER of the following to provide the information requested BELOW:
(Write a new email FROM your email program and type or

copy/paste

my email address into the

TO:

field.)

Please specify that you just ordered a Mangosteen ebook.
-- OR, Call Me
at 952-814-7296
NOTE: If you are overseas, PLEASE call or email me
rather than asking me to call you! Thanks!
ALSO NOTE that MOST of the time (99.99%), I cannot get my emails delivered to people with AOL email addresses (they just bounce back to me and no one can figure out why), so it's best to use the telephone for communication with me if you use AOL.
Please provide the Following Information by Phone or Email:

1.) Your Name

2.) Your main phone number (plus any additional phone numbers where I may reach you with any questions about your order).

3.) Your main email address.

4.) The URL/link of the web site for Pages 2 and 25

(the same one is shown on both pages).

5.) Any additional ads and the URL's for their links for the OPTIONAL Page 26. Include the text and URLs for each one.


FEEL FREE TO CALL with any questions or concerns.
I'm very happy to help you over the phone at any time!
952-814-7296
PLEASE understand that UNLESS YOU contact me
with the ABOVE info, I CANNOT set up your ebook
because PayPal does NOT provide me with YOUR phone
number... Therefore, YOU MUST EITHER CALL OR EMAIL ME
with the ABOVE INFORMATION !
When I Finish Your Ebook...
Watch for an email from me (be sure to also check your spam/junk email folder if you don't see my email in your Inbox).....
-- I will attach the PDF file for your ebook to my email to you, which you will then download (save) onto your own computer hard drive. Save it either on your Desktop or in a folder on your C: drive (or whatever your hard drive is labeled) where you can find it again later.
Once saved onto your own computer, you can attach it to new emails that you send to your prospects. NOTE: I would advise you to let your prospects know ahead of time (by phone or a separate email) that you will be sending them an email with the ebook as an attachment, because most people don't like to open emails with attachments unless they know the person they are being sent by.
-- Alternatively, I will also set it up as a shortened link with http://TinyURL.com to make it easier to share with others RATHER THAN needing to send it as an email attachment....
Your prospects can click on the link in your email and your ebook will open on their computer. Then, they can click the "Save a Copy" icon at the top of the ebook reader to save it onto their own computer (only if they choose to, because it's not actually necessary to save it in order to just read it).
If You Want Revisions To Your Ebook In The Future...
____________________________________________________________________________________________________________