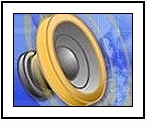 NOTE: In addition to being the EASIEST way to add audio and video to web sites, I LOVE using this service to record teleconference calls for my network marketing or internet marketing businesses... it's a piece of cake to copy/paste and send the link to listen to the audio in an email to my business partners/downline. That way, nobody has to miss important information because of busy schedules that may not be compatible with my company's call schedule!
So even if you do NOT have a web site, it's important to realize how easy and useful this service is in order to provide your business partners with important teleconference information that they might otherwise miss by sending links to the audios via email!

Audio Service Features:
The most feature rich audio, video and podcasting solution on the Internet . Below, you can see a complete feature list and compare it to any other service. If you can find a feature on any other service that we don't offer, tell us about it. If we add it to the service, we'll give you a month of free service.
-- NEW!! Streaming VIDEO!!
It's just as easy to add video to your websites as it is to add audio! No need to worry about video formats or require Windows Media, Real Player, or Quicktime. Just upload, then paste one line of code to your website and 98% of Internet users can watch your videos instantly! (NOTE: THIS IS the BEST way to display videos on your sites, because they will NOT link back to YouTube or other video sites that contain many of your COMPETITOR'S videos, too! Why would you want to lead YOUR OWN prospects to OTHER competitor videos??) You may also record straight from your desktop using our exclusive Video WebRecorder technology. All you need is a webcam!
-- NEW!!
Podcasting!!
Instant Worldwide Syndication! Just create a podcast and add your audio or video to it, and you're instantly syndicated to over 15 search engines and directories worldwide. We'll even show you how to add your Podcast to iTunes in 2 minutes for FREE!!
-- NEW!!
More Players!!
Just released!! A HUGE assortment of new audio and video players, where you can control the look and feel!
-- NEW!!
No-Surcharge Phone Recording, even for
Conference Calls
Just released!! Our service no longer surcharges for phone access to our Exclusive Media Center! Record phone messages of up to 60 minutes, and Conference Calls of up to TWO HOURS, with no surcharges!
-- NEW!!
Super Configurable Call-In Lines
Just released!! Let your customers or partners record testimonials, commentary, or audio seminars of up to an hour using our Exclusive Call-In Lines! Record your own welcome messages to personalize your Call-In Lines! Receive email notifications of new messages for each Call-In Line.
-- NEW!!
Record Testimonial Line Greetings!
Just released!! Now you may record your own welcome message for your testimonial line callers!
-- NEW!!
Easy Download Your Recorded Audio Files
Just released!! Only we make it easy to download and archive your recorded audio files the instant they are recorded. No need to send email, just click and download. Don't be held hostage by services that don't give your access to your own content, or worse, charge you for access to it.
-- Best Affiliate Program... Refer Only 3 - & Yours Is FREE!
Members are rewarded for referring new members with our exclusive affiliate program that pays you 33 PERCENT in commissions, each month, for each of your referrals. You can apply it to your own monthly subscription fee and request any excess to be paid to you in cash!
-- Unlimited Testimonial, Comment, and Seminar Call-In Lines
Only we give you unlimited Call-In lines for testimonials (up to 5 minutes), commentary (up to 20 minutes), or seminar recording (up to 60 minutes). Create a testimonial line for each product or department, as many as you need.
-- Record Conference Calls for a FULL TWO HOURS
Record conference calls of up to two hours in length . All other recordings may be up to ONE FULL HOUR in length, or you may use playlists to generate audios of almost unlimited length.
-- NEW!!
Playlists for unlimited-length audios
Only our members can use our exclusive playlist builder to create audios of unlimited length. Because each audio is a new segment, you can easily seamlessly integrate testimonials or other audio samples into your presentations.
-- Publish Once. Update as often as you want!
Only we let you re-record audios (and videos) in your account. This means you publish the HTML for your audio (or video) into your website or emails ONCE, and then you can change the audio as many times as you like! Yep... that's right. You may change the audio in on your website AND in your emails dynamically, even after they've been sent!
-- 5,000 MEGABYTES of streaming audio per month
Our members can stream up to FIVE FULL GIGABYTES (that's 5 BILLION bytes) of your audio and video content delivered directly to your customers.
Additional bandwidth may be automatically added as needed to ensure your audios keep playing to your customers and prospects.
-- Record audios from anywhere, 24 hours a day, 7 days a week.
Whether you call our easy-to-use MediaCenter, use our exclusive WebRecorder™, or upload your own audios, you can manage your audios anytime of the day or night, 365 days a year. You can even listen to or re-record existing audios using our dial-up MediaCenter so you never have to update your website once you place a player on it. That's right... You never have to update your website with a new audio code. Once you've placed the code on your site, you can update it by phone, uploading audio files, or using our exclusive WebRecorder™ without ever having to modify your website again!!
-- Upload MP3 or WAV format audio files
No need to mess with audio mixing software to get your audio in the right format... We do it all for you. You may upload your MP3 or WAV format audio files to us and we will automatically prepare them for streaming in just seconds. No need to buy and learn complex audio editing software, just upload it to us and let us do the hard work.
-- Exclusive WebRecorder™
Only we give you WebRecorder™, our unique record-over-the-web technology. All you need is a flash-enabled browser and a microphone attached to your PC, and you're in business!!!
-- Powerful Statistics
Only we give you real-time statistics on the usage of your audios. Click on any audio to see how many times it's been played, total play time, the number of times it's been played to completion, and the average playtime.
-- Unlimited email usage
Whether you send 10 emails, or 10,000... You may place your audio in as many emails to your customers as you like. We'll even generate the HTML and text links for you to help make it easy to paste into your favorite email service or application.
-- Unlimited web page usage
Place as many audio players on as many web pages as you like. You don't need to know HTML to add your audios to your website. You simply need to be able to cut and paste.
-- Auto-play audios
Have your audios automatically start playing on your webpage when a member comes to your website.
-- Per-audio recording history
Exclusive! Each audio in our system maintains a complete version history, which you can refer to at any time. You can even revert to past versions at any time and never lose any of your work.
-- A partner you can TRUST.
We've been building web-based audio systems for more than half a decade. We know that when you trust your business to a technology company, you want to make sure that they know what they're doing, and that they'll be around in a year, or two, or five. We practically created this industry and we have thousands of customers. We designed, built, own, and run the technology and systems ourselves.
-- Redundant storage, backed up daily
Our servers are backed up daily, and all information is stored on state of the art redundant RAID arrays to ensure that data loss doesn't happen.
If you're ready to give us a try, we're willing to take 100% of the risk out of it for you. Try us for 30 days, for just $1. If at you feel it's not for you, simply cancel and receive a full refund.