Beyond Traditional Means: Ho'oponopono
An interview with Morrnah Simeona and Dr. Ihaleakala Hew Len
by Deborah King -- frequent contributor to the New Times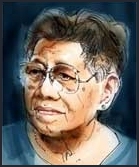 "We can appeal to Divinity who knows our personal blueprint, for healing of all thoughts and memories that are holding us back at this time," softly shares Morrnah Simeona. "It is a matter of going beyond traditional means of accessing knowledge about ourselves."
The process that Morrnah refers to is based on the ancient Hawaiian method of stress reduction (release) and problem solving called Ho'oponopono. The word Ho'oponopono means to make right, to rectify an error.
Morrnah is a native Hawaiian Kahuna Lapa'au. Kahuna means "keeper of the secret" and Lapa'au means "a specialist in healing." She was chosen to be a kahuna while still a small child and received her gift of healing at the age of three. She is the daughter of a member of the court of Queen Liliuokalani, the last sovereign of the Hawaiian Islands.
The process that is now brought forth is a modernization of an ancient spiritual cleansing ritual. It has proven so effective that she has been invited to teach this method at the United Nations, the World Health Organization and at institutions of healing throughout the world....
"Morrnah's work is pure genius, a stroke of Divinity. The theme of Self Identity through Ho'oponopono: Clean up memories to free up the Soul to experience the sweetness of Divinity. And as such, we are not here to save anyone (they're perfect already) but to release our souls from memories, allowing Divinity to infuse them with peace and ease beyond all understanding." ~ Dr. Ihaleakala Hew Len
_________________________________________________________________________________________________________________